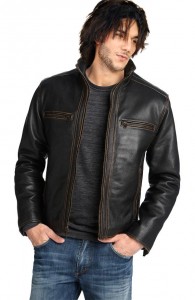 Men's leather jacket is the best way to make a style statement. It has always been a style statement and it still is. Men's leather jacket was seen on many celebrities like Elvis Presley to Brad Pitt. There is nothing as hot as leather a jacket and there is nothing as smart as a man looking smart in the same. It remains unparalleled.
Every fashion boutique will have at least one line of leather collection. Because it is a fashion designer's dream, the designs available in leather jackets are very exceptional. Let's take a look at some of the famous styles in men's leather jackets.
Biker Leather Jackets:
Leather jackets for men came into being when bikers thought that it was necessary to be protected from the abrasive nature. That's how men who were hardcore bikers started wearing leather jackets. However as years flew by, it started to become more of a fashion statement. And now every biker and non biker wears the biker leather jacket. With comfort they also look for styles. Biker jackets are not too tight ad they usually come in zippers and side pockets.
Bomber Men's Leather Jackets:
Bomber jackets come in many styles. There are some jackets that look really classy and stylish with neat cuts while there are some that looks casual, grunge and ruff. You get bomber jackets in many styles like a jacket with broad shoulders, or a slim jacket etc. Some bomber jackets are made of double leather, so protection and comfort concerns can be kept at bay. You also get these jackets with hoods. You also get bomber jackets with collar neck in fur, they look very cool.
Aviator Leather Jackets:
Aviator jackets are more of fashion apparel. It has a military look so have no doubts that is high in class and sophistication. There are also slim fits available in men's leather jackets. You can wear an aviator jacket with simple tee-shirt and denims. You do not have to be a biker to wear one.
These are the many styles available in men's leather jackets that have always remained in vogue and it always will.
Comments