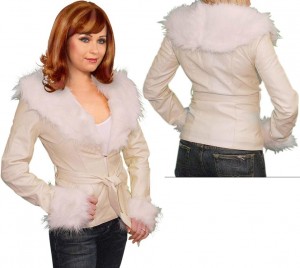 Apart from the beauty of fur leather jackets their versatility is also well known. They not only protect the wearer from adverse climatic conditions but they also make them look trendy and stylish. They reveal a classy personality making men and women look great.  This is one status symbol that no one would like to give a miss. The animal fur is combined with classy leather jackets enhancing the looks of the wearer. The products are manufactured not only for accessories but they are also used to design bags, coats, belts etc…
The quality of fur leather jacket is depended on the quality of fur and leather which is used to manufacture it. The fur can be soft, stiff or rough depending on its quality and the same with leather, but there are various faux fur leather apparels that you should be aware of. These fur leather jackets have a unique smell that is easy to recognize. This is one very important factor that is easy to recognize these fur leather jackets. For leather jackets the cow hide leather is the tough and rugged which is used for both furniture and apparels which is accentuated with fur to add glamour.
The fur leather trends have been the latest fad this fall season, the fall materials like velvet, metallic, leather, fur etc are the luxurious items which is difficult for many to afford, the best option is to opt for faux leather which are the perfect imitation of original leather and they even smell the same, the best part being that they can cost much less than the actual leather.
Fashion is for everyone and depending on your budget you need to make choice; leather jackets with fur are the latest trends this fall season. Don the outfit in style and pair it matching accessories to stand out from the crowd.
Comments