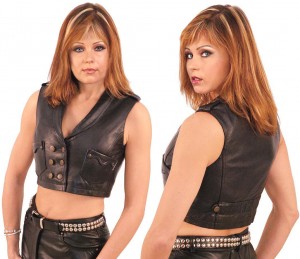 If celebrity styling is on your mind then trust me you are at the right place reading this article. Marilyn Monroe set the halter neck trend back in 1955 with release of her movie Seven Year Itch, the strappy and pleated halter neck dress was, it was an immense craze and the halter neck still continues to be the most amazing style, but remember this was in 1955 and we still remember the look…this is called the look of fashion and creating a style statement that last in memories forever.
Leather halters are the latest craze, the red carpet celebrity who was spotted wearing a leather halter was Emma Watson where she appeared in a gorgeous lady like black leather halter which was paired perfectly with an ivory color skirt. If you cannot afford celebrity style or their make up then the best way to grab attention and look like a diva is leather halter neck tops or leather halter neck dresses. The strapless leather dresses have also done rounds on the red carpet event, if you remember our favorite Angelina Jolie looked stunning wearing a strapless leather dress, this is one fashion which has still maintained its credibility and still looks great.
To don that super biker chick and if you plans to go all leather, then a leather halter top can be paired with leather shorts and stylish boots will definitely get you maximum  attention. A women's' closet is usually filled with various apparels but id its missing leather apparels then the wardrobe is still incomplete.
The types of leather halters that you can opt for are the sleeveless ones or you if wish to get maximum attention then opting for a bare back leather halter is the perfect choice, but then that depends on your comfort level. The craze for leather halters is immense; this is one fashion statement that you cannot give it a miss. To name a few more leather halters, the Concho studded leather top, you can also opt for snap pocket leather top, to top it all the riveted leather halters are very attractive and look classy.
Comments