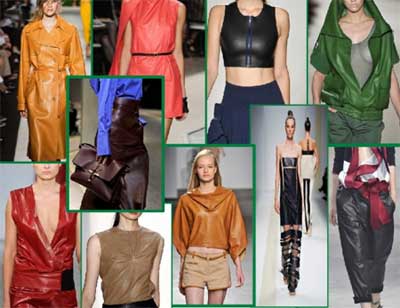 Whether it's Rosamund Pike at the Golden Globes or Zoe Saldana at the Awards or Carey Mulligan and Maggie Q at the People's Choice Awards, there's one thing that leaps out strongly in just these few days of 2011– Leather!! Celebs have rekindled their passions towards this gorgeous creation.
Strangely, leather has been around for generations. It's always been there. Every year, leather makes its presence felt; but 2011 seems to be shaping up as a year dedicated to placing leather on a pedestal far above the rest. Fashionistas have a new found love to the material and everyone from Celebes to models to designers are sporting and advertising it.
Come to think of it.. why not? Good quality leather is built to last. It's snug, comfortable and looks awesome. The feel of leather is marvelous! Unlike it her clothing trends, leather can be worn throughout the year making it a sound investment! A majority of leather clothing is resistant to various factors which would usually damage any other type of jacket or clothing.
Leather is versatile. I mean think about it! You can wear a leather jacket umpteen number of times by just combining it differently every time. There are loads of leather products available ranging from the most commonly used – leather jackets to leather blazers, pants, one piece leather dresses to leather skirts.
A biker's jacket is a great choice for amore rugged look. Just ensure that you pick a size that is perfect for you. If its too tight, its just going to make you uncomfortable and if its too loose, its just going to flap away. More importantly, pick a jacket that you would be comfy riding long hours in (if you are using it for the purpose of riding). Safety comes first!
A bomber jacket is a superb choice. It keeps you warm and looks really sexy with cargos! If you can get your hands on a classic vintage leather jacket, I'd say never take your hands off it! A great vintage jacket is something that is bound to make you stand out in the crowd. Blazers are perfect for a corporate look, especially for women. Just team it up with an awesome pair of pumps, delicate jewellery and a simple, one-piece, formal, knee-length dress.
Leather pants are to die for. No wardrobe and I reiterate, no wardrobe is complete without a pair of the oh-so-sexy leather pants. Contrary to belief, men do not have to only picture themselves as Axl Rose with tight leather pants (though it would be funny to see Guns N Roses getting that famous in Hawaiian shirts). Au contraire, leather pants are available in cargo fits, straight fits and a range of colors. The same applies to women. Though in my opinion, women should always opt for the tight fitting ones. It's a great way to showcase your curves, without actually showing any skin!
Leather dresses – just reading it out creates an amazing image in your head. Leather dresses exude confidence and make a bold statement. Leather skirts are a great choice too. There are available in various lengths, colors and designs, depending on how you wish to showcase your sex appeal.
The leather mania has spread to kids too. You know your kid is going to be the next Gustavo Cadile when he comes up to you and asks for a pair of leather chaps!
Comments