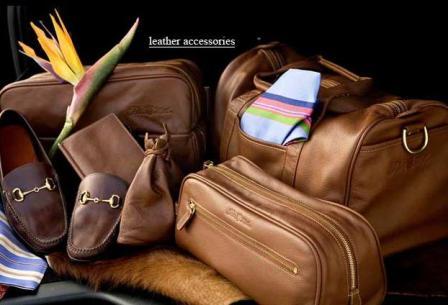 Leather accessories have been a favorite for generations and I say generations because even the Stone Age man used animal hide to store his things. Leather is all about ruggedness combined with style and perfection. There never was and there probably never will be any need to advertise leather fashion accessories simply because it is an essential and important fashion necessity in just about everyone's wardrobe these days.
There is a humongous variety available when it comes to leather fashion accessories. Ask a leather fanatic. He'd probably know the best; though come to think of it you really do not need to be a leather crazed person to own leather accessories. The beauty about these accessories is that they help to redefine you and your look. It's undoubtedly thanks to the sheer fabulousness that leather, as a fabric, exudes. Leather has this distinctiveness about it that makes it stand out and if teemed in perfection, then prepare to dazzle wherever you go!
Here is a list of a few leather accessories that you must have in your wardrobe to qualify for the chic list
Leather Belts:
This is traditional favorite among men and why not. A good leather belt is the perfect add on to highlight your persona. Plus more importantly its one item, that is quite resourceful as well. It helps keep your pants secure without compromising on style. Men traditionally always opt for thick leather belts.
Just because I call leather belts a traditional favorite among men, it doesn't mean that a huge bunch of very trendy women don't sport them. We have the option of over 100 colors and plus we get to experiment with the size of the belt. A thick leather belt can do wonders to a dress to tight denims. You can choose from womanly ones to the more rugged looking belts – be it dual colored, skinny, nickel studded, wide, formal belts, square shaped buckle or belts with double pin closures.
Leather Bags:
If you want to enhance your appearance, then a great looking leather handbag is a must have. It's undoubtedly the perfect fashion accessory. It's simple really! The bag you sport tends to set the tone of your outfit and your look. A leather handbag is pretty much like icing to the cake. There are hundreds of varieties available from big to small, from shiny to dull, from sporty to classy, from naughty to nice!
Let's not forget the leather clutch. It's probably not as popular as the shiny sequined ones; but they definitely make for sturdy companions.
Leather Wallets:
A leather wallet is an investment. I mean think about it. You purchase a leather wallet today and then just never have to worry about replacing it for the next decade. Its suave, its sexy and more importantly it's durable. My dad's leather wallet is as old as his marriage; both are completing their silver jubilee this year.
Leather Gloves:
It's not winter if you're not sporting leather gloves. How often do you get a material that's stylish, warm and feels super awesome on your skin? That's what leather gloves do to you. It makes you go wow!
Comments