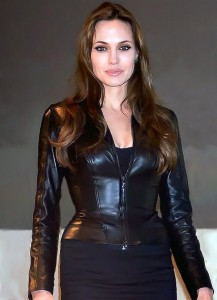 A leather jacket is one trend that is here to stay just like your girlfriend. This is one trend which has been adorned by celebrities strutted by models on the ramp. It's versatile; it's trendy; its soft and glamorous, guess these are good enough reasons for you to have at least one in your wardrobe. This outfit guarantees to get you maximum attention and accentuate your personality. If you need inspiration then you now who to look up to our classy celebrities….they have been rocking in these rugged outfits since centuries.
The Mike & Chris version of hooded leather jackets is doing rounds of the fashion market. Its one of the latest trends but the upbeat style is the cropped leather jackets, the vintage styles and the rocker chic styles will always be in fashion. The nonchalant looks are in and will always look sexy.
Leather clothing you choose be it a leather jacket or leather pants, it must be haughty as well as attractive. Buy from designer showrooms you never know or can personalize your leather clothes with the help of a professional designer. The updated style can be on your shoulders just with a little customization and all you need to do is walk like a diva.
You can always go for polished leather outfit and opt for a leather jacket with zippers and metals.  The color brown is favorite among celebrities so dazzle I a brow color leather jacket, there are various shades of leather available like dark brown, sand, dust, camel, desert etc. If it's the jacket that you are utilizing then pairing it with jeans is the optimum choice, but try to keep it subtle and stylish and avoid making it look flashy.  A tee shirt with a black leather jacket is what is considered as the celebrity style, the stylish aura they create is awesome.
Leather gloves and leather boots are an addition to get the celebrity style statement. The winter hats and a gown can be paired with a classy leather jacket to make you look like a diva. The hat and shoes should especially be very very cool.
Leather vest and motorcycle leather jackets will definitely help you achieve that style.
Comments