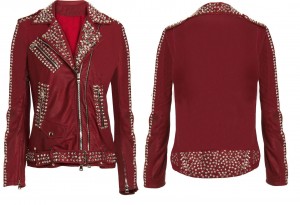 Leather jackets have always reined the fashion world. Right from Elvis Presley to Brad Pitt, everybody has been spotted wearing leather jackets. Not just celebrities in fact even the common man has worn leather jackets. Earlier only bikers were seen wearing typical biker leather jackets. But now it is more of a fashion statement along with comfort.
Leather jackets come in many unimaginable styles and designs. One of the famous and the latest in fashion market is the one with zippers and pockets. These leather jackets look like a typical hardcore rugged style. Carrying the rough and rugged look is the latest in trend that is followed by many.
This red color leather jacket is one of its kinds with the feature that it has. Gone are the days when everyone wore the typical and same old black color leather jacket that was extremely simple. This red color jacket looks hot with a zipper at the front and it is made of lamb leather. Any leather apparel made of lamb is going to be like a trusted friend and will stay longer. Only that you have to take little extra care towards your leather jacket.
This jacket has studs all over the neckline, sleeves and also at the pockets in front. The studs are in a different color and that adds glamour to the jacket. The jacket has front pockets and at the sides of the chest. All these features will help you grab attention and steal limelight. You can wear this jacket to any occasion. You don't have to plan out a long ride to wear this one.
A night party would be the perfect place to wear such leather jackets. Pair it with casual denims that are rugged or ripped and wear formal black shoes. You can also wear a scarf around the neck and tuck in your shirt to finish the look.
Comments