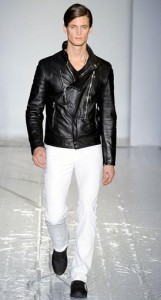 Leather jackets are always in trend, no matter what. This fall should be no exception too. Get a leather jacket for yourself this fall season and remain fashionably updated.
One of the famous styles for a leather jacket is the bomber jacket. It is the best so far and for ladies these leather jackets work wonders. A black leather bomber jacket is the best. No other color can look as hot as a black leather jacket. But for people who wish to come out of their black fixation can always go for other colors like brown or grey. Ladies have wider options, they can wear a red or even a blue bomber jacket and it does look sexy and out of the world.
If a lady knows the knack of fashion she can definitely look chic in a bomber jacket that initially was worn by only men. And considering it is leather it will pr on the pricey end, but every buy would be worth because it is going to stay longer.
Wear your fall leather jacket with denims and boots and trust me every single person on road is sure 2 catch a glimpse of you.
The other style jacket would be the skinny leather jacket this fall. In fact the fall skinny leather jacket is the trendiest of all. It looks highly fashionable and hot. During winters and extremely chilling climate you can wear gloves, a winter cap with your sexy skinny leather jacket. It is the best to way show the world that you are probably one of the biggest fashion-craving ladies.
The motorcycle leather jacket is another style that has seen a demand this fall season. It can give you a smart look and also a rough look. For the biker chicks, this leather jacket does come handy. Yes, we have hardcore lady bikers and some of them are also high fashion believers. So for ladies like theses, you can also avail stylish motorcycle leather jackets.
An amazing thing about leather jackets of any type is that considering it is fall, it will keep you warm and simultaneously in vogue. Play with leather jackets as much as you can and team it up with anything.
Comments