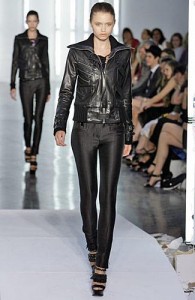 The latest fall 2011 runways trends is definitely leather this year, leather is the fabric which has been redesigned and being introduced in its most fascinating looks ever this year. You can view leather apparels in all the fashion weeks, whether it's Paris, New York or Milan, leather is every where and ruling the fashion industry in style. The luxury fabric has been seen in its shiniest avatars. He natural shades of brown, caramel, cognac and clay have been favorite among designers.
The New York fashion week noticed the awe inspiring designs in leather which featured a flowery leather coat, cropped slim leather pants, the basic idea was inspired by the retro 70s and 80s and leather was seen on every runway worn by our favorite skinny models who look beautiful and elegant in almost anything.
If you wish to include these runway looks into your fall wardrobe then you need to plan on a budget, you can save a lot with vintage leather apparels and by leather apparels like leather jackets, overcoats, dresses without spending a fortune. The first place to visit should be the thrift stores. If you do not find anything there don't be disappointed check your mother's closet and see if there is anything in leather. A 90s leather look can also be called a vintage though its not technically correct but it will work.
The leather trends this year should not be given a miss and they should be included in every wardrobe. If you plan on donning the latest trends in cropped leather jackets, leather dresses then avoid going for vintage leather as they will be seen worn by many.
Leather pants is one leather item that can take you ahead in fashion by a million miles, but you need to aware of your body type before you indulge in one. Leather pants do not look good on every women and her are few suggestions.
Since original leather is expensive women tend to opt for latex pants, which will make you go down in dressing and will definitely not get you any points. Latex is tight and will reveal your curves up to a level that it will penetrate into your skin.
Leather pants suit skinny women as they are gifted to carry any attire in style, as skinny leather pants emphasizes on revealing your curves, you have to be very careful if you wish to opt for one.
Cropped leather jackets, flowery leather coats, skinny leather pants are the latest trends for the fall/winter collection 2011.
Comments