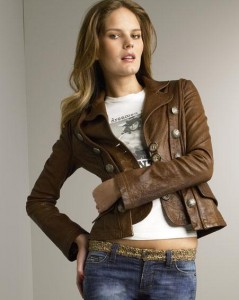 The designs of leather jackets have always allured us since ages and are a must have fashion item in your wardrobe. This is one style which is favorite among celebrities and has always been donned by high end fashionistas. This is one style which will take you right from the street fashion to the end fashion creating a fashion statement which is difficult to resist. Leather has always been available in black and brown but today latest dying techniques has given this leather a new look and it looks even more appealing making the wearer look attractive and enticing.
After spying on the latest celebrity fashion in leather jacket this was my conclusion that colored leather jackets are the latest trends which will help you achieve a new state of fashion making you look like a diva. Leather jackets are now available in red, pink, blue, green and various shades of these colors making you the center of attraction.
Now if you wish to wear this fashion to office then it is a definite no; since it is chic and not a formal attire, but you can definitely war this to your bosses birthday party; it will not attract attention of your boss but will also get you loads of compliments; you never know you may even be entitled to a promotion well I know leather is a powerful fashion statement but do no think that it will get you a any promotion, it can only get you praise.
The uber chic fashion is the paste and muted shades which are available in these jackets. There are also various eye popping and brighter shades available but they will work only if you make matching combination. This is a must have style for your wardrobe and it definitely demands attention. Leather jackets are versatile fashion items which can be paired with almost anything. This is one voguish item which can be worn in any season.
If in case you are in the quest to achieve you best outfit to define your casual or formal attire then leather jackets is definitely the best choice. The current vibrating shades in the leather jackets have created a new fashion statement.
Comments