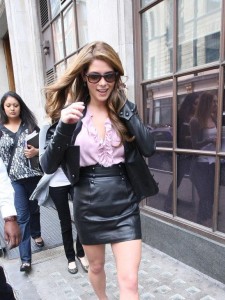 Summer is round the corner. It's time for a change in wardrobe.  Many feel leather can't be worn during summers; well that's just a myth. Leather is one outfit that can be worn at any season. Whether summers or winters, to look fashionable is what most people prefer. Leather would just help you with that.
A few things that you consider buying during summers are:
Leather skirts are one of the best outfits one can wear during summers. It keeps you away from the heat too and no need to mention about style. A leather skirt looks really sexy if carried elegantly. A leather skirt will look good on a simple tee-shirt or even halter tops. Stilettos' with skirts are the best ever combination.
Leather vests are another best tried option for both men and women. A leather vest looks good on dresses too. This something that most would not try, but it is recommended since it's a unique fashion statement.  For men leather vest can be worn over tee-shirts or even shirts. For pants they can try formal pants or casual denims. While ladies who love looking rugged can consider wearing leather vest over a nice messily cut denims. It looks really rock star-like.
A new invention in leather is the skinny leather pants or even leggings. Now these skinny leather pants are worn by men and women. It looks really hot. For men, leather skinny pants worn with a white-shirt and a vest over it will look breath-catching. Some could even wear aviators and a scarf around the neck to stop a few heartbeats. For girls leather pants can be worn with long tunic tops of spaghetti straps or even halter tops. A nice long neckpiece will add to the beauty. One can make a diva like entry with this outfit.
These leather outfits are must have. It's also fair to say that a wardrobe is incomplete without a leather outfit. So enjoy summers with these few shopping tips. Any leather apparel bought is definitely worth the buy. Just ensure you team it up with something that complements it.
Comments