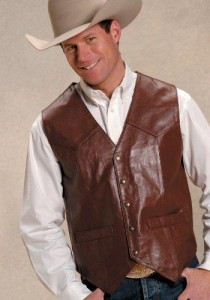 Wrap in the opulent feel of leather this season. The fashion houses have created the most amazing designs, with a cool classy appeal giving a whole new definition to the amazing fabric. Today the leather apparels and accessories are available in the most rugged and fashionable style ever to be offered before; they range from classic hip to rugged motorcycle. Leather is available in many forms and textures designed to sway away your mind, making this fabric even more fascinating and demanding.
Leather Fashion Tips: –
One fashion that compliments leather is the Sunglasses. Choose a pair for yourself that suits your face type and also compliments your leather apparel. Today there are sunglasses available which have a touch of leather giving them a glamorous appeal. Sunglasses work great with both men and women go for a dark brown of dark gray lens to turn more heads.
Wearing jeans with leather vests and denim shirts is the old cowboy style which actually never faded. This style is back in fashion, combine a pair of rugged denim jeans with a denim shirt and pull on a leather vest with classy leather boots to get maximum attention. Leather pants are also doing the rounds of many fashion houses, my choice would be to go with a black or gray color leather pants.
Accessorize your outfit with leather accessories, like leather bracelets, leather necklaces etc. You can opt for a plain simple pendant and use a leather string to tie around your neck giving that pendant a clean and elegant look. Leather bracelets are in fashion these days; always look for broader ones as they give the wearer a macho look that you desire.
Leather jackets; there is already enough said about it. They are available in all colors and styles like biker, formal, regular wear etc. The favorite this season is the lambskin designed shiny leather jacket available in dark brown shade. The bombers always look cool. The best thing about leather jackets is that they can be paired with any outfit.
Always look for a contrast combination; never go with too much of leather to avoid that mama's boy look.
Comments