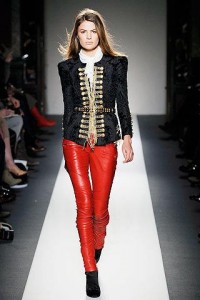 Leather pants will never be out of style. Leather as a fabric makes for excellent clothing and leather pants are no exception. They look great on both men and women and the variety of styles they come in only serve to add to the wonder that is leather pants. One of the toughest styles to carry off as far as leather pants are concerned are probably Balmain styled leather pants. They require more than just fashion sense to pull off and our celebs are probably the best people to pick out these tips from.
The one thing in common with all these beauties (aside from the fact that they are beauties) is the fact that they are blessed with impeccable figures and rather toned legs. Here are some celebs that not only successful pulled off but look absolutely glamorous in their Balmain style leather pants:
•    Kylie Minogue:
If there is one woman who can successfully prove that age is no bar to fashion, that woman would have to be Kylie Minogue. She absolutely sizzles in her pair of balmain leather pants that she chose to wear at the Principales Awards 2010 in Madrid, Spain. She topped it off with a simple striped tunic and added that bit of spritz with a purple feather jacket.
•    Victoria Beckham/ Gemma Arterton:
The reason for comparison – both Beckham and Arterton were spotted wearing similar Balmain style leather pants – just combined differently. The gorgeous Miss Beckham chose to pair hers with a glittering top and a studded belt, leather pumps, and chandelier earrings. Arterton instead went for a more casual look with a white top, Louboutin pumps and a Balmain jacket. Both looked sassy and suited their wearers perfectly.
•    Kate Moss:
If you want someone to convince you that wearing a balmain leather pant is a good idea, that someone has to be Kate moss. Her never ending legs are a huge bonus to balmain leather pants and she looks absolutely ravishing in them. Kate Moss was spotted in these balmain leather pants when she was visiting her boyfriend on the set of The Kills' new music video.
Comments