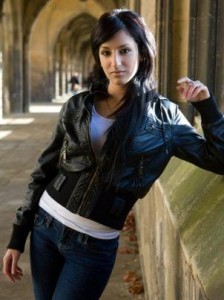 Fashion is powered by renovation and this is what leather fashion industry constantly keeps going through. Change is the most important form of life; and is the only constant form; we all change with age, place and so doe's fashion. Leather has been the epitome of the fashion industry and its recreation and new designs has always stunned people.
If in case you are wondering that if leather is the fabric for me or no then lets take a look as to why and how should you wear leather to look sexy and stylish.
Leather is back in style and it's no longer associated with bikers and rockers; power packed leather apparels such as leather jackets, leather pants, leather leggings are available in various designs and patterns. Leather dressing is so powerful that's its difficult to say no to this smooth fabric, though it looks rugged and stiff, but its supple and buttery touch on the skin makes it special; guess these many reasons are enough as to why you should wear leather.
Leather is comfortable and glossy; it's a definite fashion statement; you are guaranteed a second look if you wear leather. This is one timeless classic which does not fall out of fashion; red carpet celebrities have always managed to pull off this style but this fabric demands confidence and if you dnt have it then dnt wear coz you are gonna regret the purchase.
The most important factor you should keep in mind when shopping for every leather apparel is that you should keep your body type in mind. Women with curves should be cautious when wearing leather leggings just because of clingy and body hugging form. Women with heavier thighs and stomach ponches should stay away from tight leather clothing's.
In stead of going full leather opt for one leather clothing at a time and always opt for contrast color clothing with your leather apparel.
Leather has been used as an accessory for a long time; if you want to be associated with this amazing fabric but do not want to go for leather clothing then leather boots, bracelets and leather cuffs are a good option to be associated with this amazingly soft, supple, trendy fabric.
Comments