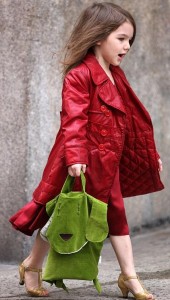 Kids and leather is probably something you won't hear in the same sentence – if you are living in the 80s! In today's world, clothing plays a major role in defining a person and self image is something that is built as a young child. The way you dress up your kid will help build his self image and confidence and indirectly shape his or her future. There is a thin line between style, fashion and good dressing. Leather is probably the one fabric that fits all three criteria. Good leather clothing helps your child look smart which invariably helps to boost his or her self confidence and ultimately the way he or she carries themselves.
So how do you go about picking out the right leather apparel for your little one? Here are a few choices for you to consider:
•    Leather Jacket:
Boys or girls leather jacket is a fantastic idea. It keeps your little bundle of joy well protected against the elements both natural and otherwise. Leather is the one fabric that can boast excellent protection. You can buy your child a formal jacket that he/she could wear to church or alternatively pick out something more informal that he/she could wear while heading out to play. It works perfectly against the rains, winds and extreme cold.
•    Leather Skirts:
Little A line skirts for your angels look gorgeous. They can be teamed with a lot of tops and look stunning. Parents – you should be careful not to select something too mature for your child. A line or flared patterns look best.
•    Leather Shorts:
Boys and girls look great in leather shorts. The material is soft and delicate against your child's sensitive skin. Pick out leather shorts that are comfortable and on the loose side. Leather shorts can be worn with a multitude of combinations. They look smart and leather as a fabric just adds that assertiveness to the overall appearance.
There are a huge variety of choices available from leather blazers to leather dresses to leather jumpers. Wait no more and think no more. Buy your little one a slice of heaven.
Comments