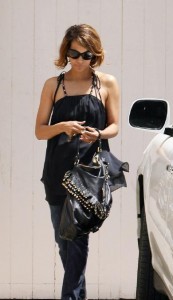 This is the first thing which should be a part of your fashionable wardrobe. This is one accessory without which your dressing is not complete. There are many leather handbags available; you should always opt for one which suits your personality. Celebrities have always inspired us when it comes to handbags; they have always donned new style and trends which are worth noticing.
Let's check out what our celebrities are carrying these days.
The bag which caught our attention was the Hermes Birkin leather handbag which was adorned by who else our famous fashion icon Victoria Beckham, but since these bags come at a whooping cost, you can definitely ignore them, but they are difficult to avoid.
The new handbag fashion which is in style is the celebrity style leather handbag; its simple, soft and latest in fashion if you want to avoid buying fake designer handbags then to don celebrity style is a good option you can consider.
The celebrity style leather handbags are reasonably priced and they are the best way to stay in fashion, you always have an option to with faux leather or original leather. It never hurt to pay less for style and when it is especially celebrity style.
Leather Handbags for Everyone:-
If you travel a lot then go with a simple style leather handbag which is not flashy, the reason being is when you travel you want to be hands free and a leather bag is the best option you have to travel in style and be comfortable.
If you are a student then large leather handbag is a good option, these bags are designed to carry heavy loads and they are available in various colors and trends. You can also opt for elegance over style if your leather bag is for bare essentials, in this category a handheld leather bag is the perfect choice, this is what the corporates are carrying these days.
If you are not in the corporate world and you have a more relaxed lifestyle, then a relaxed leather handbag is what you should be looking for.
Comments