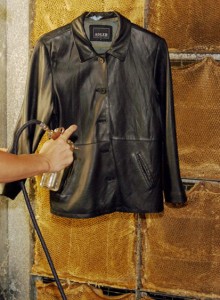 Quality and genuine leather jackets are expensive and with a little care this beautiful piece of fashion can last for a lifetime. Leather jackets a just like a chunk of change in your wardrobe which do not keep you warm but also get you loads of attention.
It is important that you understand how to take care of your leather jacket, it does not matter that if you planning to take care of your new leather jacket your old leather coat, with proper care these fashionable items can last a lifetime. Many know that leather should be away from moisture or it will lead to formation of mildew, but if it is kept too dry then it can lead to cracking. Leather breathes and should be kept in a place that is free of moisture; it should be well hidden from direct sunlight and must be away from a heat source. Do not store leather in plastic bags or other non porous packaging material. Select a hangar that is sturdy and does not allow the jacket to bend as it will prevent the jacket from sagging and stretching.
Dirt: Leather soap should be used to get rid of dirt from your leather jacket, add a bolt of cold water to remove the soap with the help of a clean cloth.
Grease: Use talcum powder or sprinkle some corn starch with little water and wait for few hours, after four hours wipe it with a clean cloth and the grease will be gone.
Mildew: Use rubbing alcohol 1 cup with 1 cup water, your anti mildew solution is prepared now just rub it with a clean cloth and dry.
Gum: Apply ice pack, as it will harden the gum, once hard enough remove the gum by chipping it off, add a little heat for residue with the help of a hair dryer and wipe it with a clean cloth.
Salt: Salt can be removed by adding 3 parts of vinegar to 1 part water, dip a cloth in it and wipe the salt off your jacket.
Discolorayion: Purchase a spray designed for leather color restoration and follow the directions.
Comments