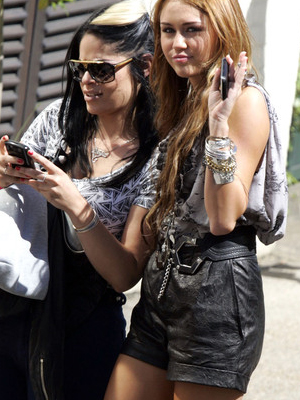 Leather shorts – something most people attribute to bikergrunge. What can I say? Most people have to seriously rethink their style and the options thereof because leather shorts are about the sexiest and trendiest outfit to hit the market. They look absolutely delicious on women with just the right combinations.
Sure you could go goth and combine your leather shorts with a whole lot of more leather but you could also try something more feminine and delicious. Here are a few funky combinations for women to try out with their sexy pair of leather shorts:
•    The Rachel Bilson look:
This look is called the Rachel Bilson look because if there ever was a poster girl for leather shorts it would have to be her. Take a cue from this leather maestro here and combine a sexy pair of leather shorts with a full sleeved, loose fitting, floral printed top. The full sleeves look wonderful especially in comparison to the short length of the shorts. Let your hair loose just like the gorgeous looking lady and add a pair of sexy shoes – your trendy yet feminine look is complete right there!
•    Shorts – Orange – Leather:
Three words you would never expect to make it to a sequence and yet something that should have been together a long long time back. Now this is no typical 'out of touch designer' craziness but is basically a combination so fabulous that you would be shocked you did not think it earlier. Select a pair of orange leather shorts with a cute tie up belt. Match it with a simple white racer back inner and a gorgeous black stretch jacket. Remember, don't go bright on the top and bottom – it could lead to disastrous results. Instead always select dull and simple single colors. Bright colored shorts match well with simple tops.
Carrying off the leather shorts look is rather risky. You have to know your fashion well and most importantly you have to figure out the right combinations. Also, pay special attention to your choice of shoes. The observer's naturally get drawn to your shoes!
Comments