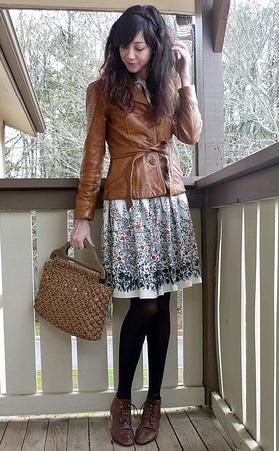 Leather does indeed look fantastic when worn.  Any well dressed woman or for that matter a man with even an inkling of fashion sense will always have some leather clothing item in her wardrobe. There are so many options available when it comes to leather like leather jackets, leather shorts, leather bombers, leather jumpsuits, leather dresses, leather skirts, leather pants and so on.
In today's world where everyone's an achiever, everyone looks well groomed – it is extremely essential to be able to leave a mark. Now leather certainly helps create an impression but a leather jacket or a leather pant by itself will not spare you. It cannot be that simple. The combinations matter!
A question that is often asked is will leather match leather? If a pair of leather shorts is so ravishing and a leather shirt is just as stunning, then the combination together must be absolutely mind-blowing, right? WRONG!
The biggest fashion faux pas in fashion history has to be a combination of leather with leather. While leather clothing items looks absolutely spectacular individually – they lead to disastrous results when combined together.
The only time leather combined with leather can be excused is if you are trying to portray a sensual image! It's not that easy mind you – just wearing a leather top with a leather skirt will not make you look sensual. The right amount of skin should show along with the perfect shoes and make up – the look is complete only when all these aspects are taken care of.
The joyous part about leather though is that other than itself all other fabrics match it wonderfully. You can combine a pair of leather pants with cotton, chiffon, georgette, raw silk and so on. The options of fabric combinations are endless!
The accessories are also very important – namely the shoes. Most people assume that leather shoes are the perfect match for leather clothing. Wrong again! While in some scenarios they may look good, in most they could turn out to be very wrong.
Remember – if your outfit is predominantly leather like leather pants then avoid leather accessories. On the other hand, if your outfit is mainly another fabric with say only a cropped leather jacket then leather accessories is a better idea!
Comments