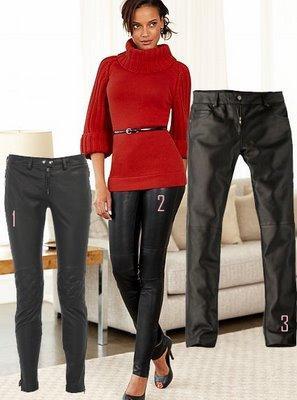 Leather pants have this unique appeal – they can make anyone look absolutely sizzling hot! If Victoria Beckham chooses to wear them that often there must be something about them! But pulling off a Victoria Beckham just ain't that easy folks. It is so very important to pick out the perfect leather pants for your body type. There are a whole plethora of creations available to choose from. The point is to pick out one that suits you.
1.    Biker leather pants:
If you are choosing a biker pant for style purposes only, you could practically use anyone. Most of them are padded in thick leather and come with quite a few metallic embellishments. However, if you are using them for riding purposes, be very careful about the type you choose. It should be soft and comfortable against you skin. The leather should be thick enough to protect you from abrasions and falls.
2.    Skinny leather pants:
The latest fad! Everyone who is anyone seems to be wearing skinny leather pants. Do remember though that skinny leather pants are made for exactly those people – skinny that is!  Women with heavy hips or thighs should avoid these pants completely. Remember to pair them up with stilettos or nice boots.
3.    Skintight leather pants:
Often confused with skinny leather pants, these are a different variety all together. These babies fit like a second skin molding themselves to every dent and bump of your body. There is absolutely no space between the skin and the fabric. Putting them on and taking them off could take a while but the overall effect – if you have the body to carry it off – is absolutely fantastic!
4.    Classic Leather pants:
The traditional black ones that are not too tight but flow down in a straight cut remain the eternal favorite. They look stupendous and are quite attractive. Pick out a snug pair for yourself that is not too tight but perfectly comfortable.
Colored leather pants are a great way to add a splash of color to your wardrobe. Reds, blues, greens – the choices are aplenty!
Comments