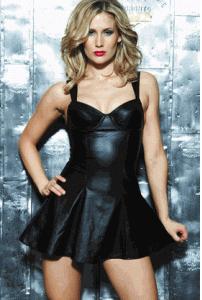 Planning for a crazy night out with friends? First dinner and then maybe hit a club to dance the night away? Whatever you plans, leather will accompany you! Leather is one of those suave fabrics that look oh so delightfully wicked and yet never goes overboard or crosses the thin line into the negative.
Leather works wonders for the appearance. So what would be the most ideal leather apparel to grab plenty of attention, look stylish and comfortable as well as create a lasting impression? It's time to go shopping! What could you possibly shop for?
Firstly unless you are blessed with a rather large budget, a suggestion would be to pick something you know you would love to wear again. If you are even the slightest bit hesitant about the selection or unsure how you look do not buy it. Always take friends along. Ask them for their opinion. Listen to the salesgirl too (although she may not be your best decision).
Here are a few top class suggestions for your wild night around town:
1.    A leather skirt:
Nothing and I reiterate nothing comes close to a good leather skirt. It's hot; it looks sweet and shows off a tantalizing amount of your legs to create a magical impression. There are various cuts available of course. An ideal one for a party would be a nice fitted black skirt. You can combine it with lace stockings and a hot tee!
2.    A leather dress:
Once again a mind blowing choice – a leather dress is simple, sweet and looks awesome! There are plenty of drool inducing creations available. Black is probably the most suitable color when it comes to clubbing or a night out. If you wish to have a splash of color simply blend the outfit with funky red shoes. Contrasting accessories make for an awesome combination!
3.    A leather vest:
The power and the sheer sensuality of the leather vest have been seriously undermined. A simple leather vest over a checked plaid short skirt and boots have a whole new appeal. Discover it today!
Comments