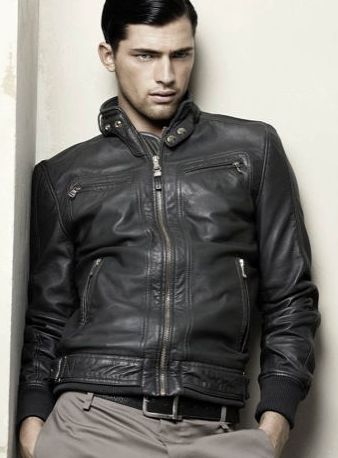 No one can deny the joys of spring and almost everyone will welcome the chance to finally get out of layers of snow and bundled up clothing. It is a little strange to be suggesting leather jackets for the season of spring – especially when you've just finally extracted yourself from warm clothing. While leather has its positive practical points like wrapping you with warmth – it also is one of the toppers on the trendy chart. The magic is how to radiate style without getting uncomfortable.
Contrary to what most people say, a leather jacket is quite a whopper in your spring wardrobe. All you need to do is re align your thoughts to what kind of jacket to choose. Stay away from bulky bombers or high necked jackets. Instead opt for the following choices:
Men:
Sleeveless Leather Cowboy Jacket:
This jacket is an absolute delight. They are sleeveless and usually come with only open flaps devoid of buttons. Sometimes a set of strings on either flap add that perfect cowboy look. Combine it with a simple checked formal shirt if you want to go all the way with the cozy cow boy look or else just add a plain white tee tucked into denims.
Sleeveless leather Vest Coat:
Another great option! The hemline of the leather coat hangs below the derriere and creates a look of chic style combined with a tinge of practicality.
Women:
As usual, the choices for women always exceed those of men. A favorite has to be those short cropped leather jackets that can be worn as tops or combined with a casual tee. Another great option is to opt for those short cropped jackets with full sleeves. The lower hemline ends just below the chest or even higher. They look absolutely dazzling especially if you want to showcase a long waist line.
Suede leather is probably the most spring like material amongst all of the leather offerings. There are a whole variety suede leather jackets available and they have a raw sexy feel to it! Don't be afraid to experiment with bright colors like blues and pinks. Of course nothing can take away from the raw sensuality of black.
Comments