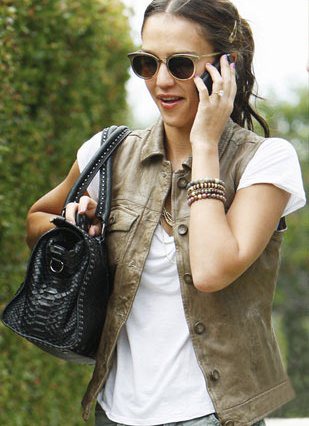 I, for one, have always associated the term 'vest' with leather. It took me a few years of growing up to realize otherwise. You see, my mom had this fabulous brown colored leather vest that she absolutely loved wearing and I loved seeing her in. It was only later that I realized that you do get vests in other fabrics as well and that's when I also realized how pointless that was. I mean, nothing could look as gorgeous as a leather vest.
So if you are out there looking to add the right piece of trendy clothing to your wardrobe, up your oomph factor or simply want to look nice – then what you are looking for is a fabulous leather vest. I know what you are thinking now – spend all that money for a leather vest that I can't wear often without the risk of looking like I have no clothes. Chill out! The leather vest is amazingly versatile. It can be combined with everything from skirts to shorts to trousers to denims!
In all honesty, practicality wise the leather vest is not very sensible. It does not really protect you from the cold or the wind or anything fancy. A leather vest is purely for style. Durability is another huge plus point when it comes to the leather vest. Of course that has more to do with the fact that the vest is leather. Another good thing about leather vests are that they never ever run out of style. You just do not have to worry that what you are wearing is going to be outdated soon. Simple example, that leather vest that my mother always wore now sits proudly in my closet.
There are an ample number of combination to which you can add a leather vest!
Casual look:
If you are attempting the casual look team up a three tiered, short, ruffled, chiffon skirt with a simple cotton top tucked in. add a matching leather vest and you have yourself an absolute head turner!
Another option is to wear your skinny jeans. Combine this with a loose top, preferable sleeveless with a U neck. Once again, the simple addition of the leather vest t this combination changes it from being an ordinary everyday outfit to an ultra chic creation.
Professional look:
What you want to do here is pick out a short straight cut formal skirt – by short I mean a little above the knees or knee length. Add to it a ruffled, full sleeved lace top and finish of the look with a leather vest. Needless to say, you will just have taken professional dressing in your office to a whole new level.
Formal party look:
Scan your wardrobe for that floor kissing pencil skirt with the high slit. Add to it a simple top and an oh so sexy leather vest. Now prepare yourself for plenty of attention and a host of envious glances!
The key to using a leather vest is to always combine it with a simple inner!
Comments