Another set of awards! More Oscars handed out! More talk and gossip about who wore what, why they wore what and when they wore what? Amid all the hoopla I did a poll to find out exactly how popular leather is at the Oscars.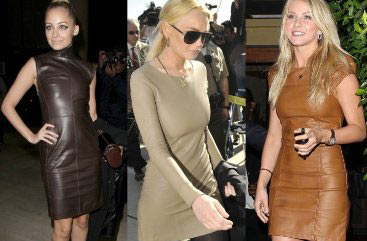 Well other than accessories, leather apparel scored surprisingly low on the wearer scale (Jude Law landing from his jet for the Oscars not withstanding). I tried to pull up all the times when leather has been worn to the Oscars and once again came up with a surprisingly low number. While celebs love wearing leather to a whole range of functions from the Golden Globes to the SAGS as well as launches, they seem to shy away from wearing leather to the Oscars.
A host of celebs have chosen to wear leather at various occasions like Sandra Bullock in a skintight black leather dress at Spike TV's Guys Choice Awards or the recent spotting of Alicia Keys, Jessica Alba and Jennifer Lopez in their own varied version of the LBD – the leather black dress! This trio of beauties added plenty of oomph and class to their leather choices then again talking of class nothing can come even remotely close to the beauty of Zoe Saldana in leather!
So clearly leather is a loved choice among celebrities; so what makes it such a risk to wear at the Oscars – the mother of all event functions! From Katerina Graham to Jennifer Lopez, almost every celeb has sported leather in a rather enticing manner yet they stop short at the Oscars choosing to favor chiffon and the other traditional favorites instead.
Could it be that leather is too powerful for the Oscars? Do the celebs think that walking into unknown territory is a risk? Do you think the celebs are too afraid to break the ice or could it just be something entirely different?
The questions are endless. We know from past experiences that leather has a distinct personality and works wonderfully well at conveying emotions like assertiveness and confidence! So what could be holding back the leading men and ladies from selecting leather?
Comments