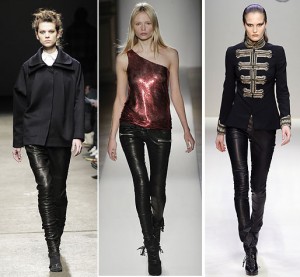 Winter season is going on and every season brings with it new trend. This winter in the rage is leather pants. Leather pants are a blend of fashion and protection. It means they greatly flaunt women personality while shielding them against cold and chilly wind. Thus women be happy as for you diva look imparting attire is right here for winters.
In chilly winters also you can look like a star wearing leather pants. Leather pants are very fashionable to look at and impact making outfit. It oozes sensuality beyond comparison and this it does for all figures. Leather pants look good on all figures. Though their silhouette varies from figure to figure but at the end they lend lasting impression for all. Its different silhouettes are straight legged leather pants, bell bottom leather pants and skinny leather pants. So if you have got a slim hot body, then skinny leather pant is perfect for enhancing it. If you are quite heavy at hips and thighs then straight legged leather pants are good option. Leather pants are sexy, intimidating and rebellious. They are hit this winter and especially suede leather and embossed leather.
Leather pants also come decking in various details. Nickel studs, side interlacing, embroidery etc. are some of the embellishments used over them. They make them look more fashionable and add great to their looks. Women in leather pants look ultimate sex symbols. Alluring, tempting, magical, charming etc. all such adjectives can be used for women. Thus discerning style statement can be made in leather pants.
For luxe look in leather pant team it with high heels or ankle leather boots and metal accessories. Above wear t-shirt or open jacket for a sexy look. For exuding more femininity wear a floaty dress over leather pant. With them you can carry leather pants with dash.
Leather pant will really look cool in winters being hot from inside. Give your appearance a chic edge and look out of the box. Go and buy leather pant, the latest trend, and look the best.
Comments