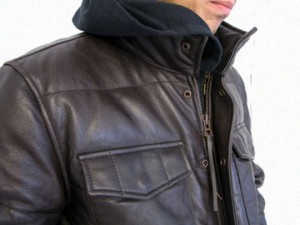 Leather jackets are everybody's favorite. All want to have them in their wardrobe and do so. But shopping does not just mean to purchase leather jacket but actually it means to have the best possible deal. This article will confront you with some tips which will help you in saving your money and guarantee a successful buy.
Leather type is foremost important thing to consider while purchasing leather jacket. Though many leathers are used in their making like cowhide leather, buffalo skin leather, pig skin leather and so on but no one matches the exquisiteness of lambskin leather. Leather jackets made out of lambskin are lighter and much comfortable to wear. In addition it has fewer crests or scratches on the skin, giving the leather a more uniform look. Hence always go for lambskin leather jackets.
Lining of leather jacket is another important consideration one should look for very importantly. Many people forget to look at it thinking it is not essential but they do not know that lining tells a lot of about the quality of the craftsmanship. If lining is good it means proper care is taken in the making of leather jacket else not. Thus look for the best lining leather jacket.
Finishing touches are also very important to look for. It includes buttons, zippers, pockets etc. Looking at them you will come to know whether they are made of good quality or not. It will also tell about the quality of leather jacket with which it is made.
Stitching makes a world of difference and easily distinguishes between cheap leather jacket and high quality leather jacket. A low quality thread will soon rip off your leather jacket while good quality thread will remain for years. Thus give special heed to threading used.
Thus next time when you go for purchasing a leather jacket keep the above tips in mind for settling on a high quality leather jacket.
Comments