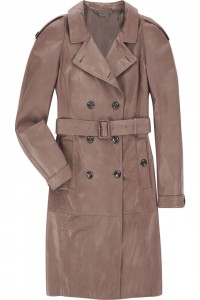 Trend can be new or can revive from old already existed before. Here we are talking about leather trench coats, which were in existence since years ago. But that time they were not as much developed and just were used for functional purpose. But today leather trench coats are again in trend with new face.
Silhouette of leather trench coats have also altered a lot now. It has started coming with double breast having slotted pockets, an adaptable collar and four buttons. These details have greatly enhanced their look. Even designers are coming up with many new ideas with respect to leather trench coats. They are adding many new and unique features to them.
New styles in trench coats have largely attracted shoppers towards them. They can go for either double breasted or single breasted, cropped or full length, belted and even wax-coated leather trench coats as per their preference. Many options are open for them. Also unlike before when they were only used for protection against cold or wind, today they have become season friendly.
Leather trench coats are seen making great fashion statements at places. Even great celebrities and super models also do not lag behind from wearing them. As they are for both sexes both men and women can wear them. Also they can be worn over various outfits like suits, jeans, trousers, skirts etc. They are a great addition to your closet. Leather trench coats come in wide ranges of lengths and an array of colors, so it should be easy to find the most flattering style for you. Black leather trench coats are the most preferred ones. Classy black color is the main reason behind it. They are available in styles and sizes. These coats can be worn over anything and can be taken to any occasion from office to lunch to dinner party etc.
This outfit is a very exclusive piece of clothing that exudes timeless class. Leather trench coats have never gone out of style; the changes in their silhouette are just for accommodating changing trends. Therefore certainly have at least one piece of leather trench coat in your wardrobe so that you are never deprived of that perfect something to wear with any of your outfits.
Comments