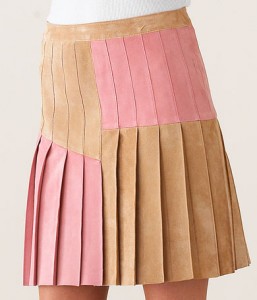 Skirt is topmost fashion outfit. Women are crazy about them. And if it is leather skirt rage for them is more. Leather is exclusive material and is highly admired. Leather skirt has a great appeal.
Leather skirts exude femininity in women. With little creativity over them it can be made more fashionable. Accessories are best way to add style to them. Here are given some accessories advices that will make leather skirts look amazing.
Enhancements like nickel, studs, bids, buttons and zippers greatly enhances look of leather skirt. But they should be complementary to the color of your skirt. This is a great style idea to look fashionable.
Complementing top is must to enhance the look of leather skirt. It can make a great fashion statement. Tops come in various styles perfect to accomplish excellence in looks. Best is the one having top most quality, texture, perfect colors, and perfect finishing. Also tops are available in various designs such as halter neck top, backless top, sleeve less top, zip fly top, open front top, fringed top etc. Opt for the one that best suits above skirt.
Another essential add on is glove. Gloves with leather skirt make its look much attractive. Fingerless gloves are best to choose.
Stilettos and knee high boots takes appearance of leather skirt to the height of pinnacle. Even many celebrities are spotted flaunting style in leather skirts paired with stilettos or knee high boots.
Leather skirts play a key role in the trend and the fashion and when the above details are added to it becomes outstanding. They have made a revolutionary change in the fashion world. Enjoy its flavor.
Comments