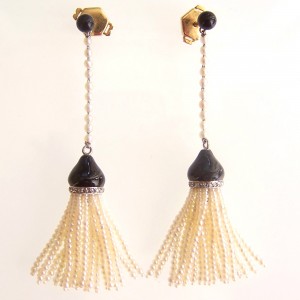 Earring is an accessory that is clearly visible to onlooker. It creates great impact if worn rightly in right style. Earring selection depends on many things like dress style, occasion, personal choice etc. But most importantly it depends on face shape. Earrings complementation with face is must to enhance entire appearance.
There are various face shapes, thus first you have to find out your shape and wear earrings that suit it. Below are mentioned various face types and earrings styles for enhancing them.
Oval shaped face
Earrings for oval shaped face should have width for balancing the face. Long earrings will make face look more lengthy which is not suitable style. Thus opt for hoops or large oval shaped earrings. They work very well with this shape. These earrings can be studded but in round shapes only. Do not wear long earrings as they pull the face shape downward, hence lengthening it further.
Round shaped face
Round shape face need earrings that can create balance. Long earrings are very good as they are visible. With long they should be large also in various angular shapes. Wide danglers also look very good. These styles add length as well soften the curves of a round face. Avoid small earrings as they can get lost with a round face.
Heart shaped face
Heart shape face looks good in earrings that make balance at the cheekbones. Go for large earrings that have an angular flare, oval shaped or dangles with a large object at the bottom. Avoid wearing short earrings, hoops and circular shaped earrings.
Triangular shaped face
Triangular face shape women look best with small circular earrings or long dangler earrings. Earrings with curves soften the angles of a triangular face as well. Avoid narrow bottom earrings as they focuses pointed chin.
Main criteria while selecting earrings is that they should create right balance. Follow the above pointers and you will always look updated.
Comments