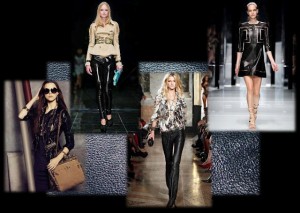 Leather is a material which is desired by many and has set a trend apart from other kinds of clothing. They are known for their authentic appeal and royal lineage of magnificence that makes every person want a leather product in their life time. They are made of lambskin, cowhide, deerskin, goat and sheep hair and skin and other materials.
There are several leather clothing styles like leather jackets, pants and dresses both for men and women. They keep your body warm and add style to you. Due to its soft material, these proclaim a higher notch to your personality among peers. They come in split style high collared jackets or the zapped up collars which add a feminine touch in woman and a hunk look in men.
These jackets and pants are either supported by buttons or zippers that can range in being up front or downward closure. The pockets availed are either closed or have an open flap for you to tuck in your hands.
Leather shirts and skirts keep you up to the 21st century look as they have come in various patterns and are overtaking the market in clothing. Men and women enjoy adorning leather shirts as they set them apart from the mundane crowd and grant a solace. These shirts come in various colors and are polished to look glam.
The frills and fur stitch or detailing at the back and front add a unique flavor to your leather skirt. You can try them out for formal as well as casual occasions based on the patterns and designs. The classic black shirts are very high in demand.
In winters leather coats want increases as they shield you against snow and cold winds. They keep your body temperature stable and store heat under the layers of its materials. They render protection to your skin from getting pigmented due to blistering grains of snow and in summer they safeguard you against strong sunlight and rays from penetrating and dehydrating your skin.
Hot leather wear for women have the halters, shorts and lingerie which bring out their sexiness and preferred over cotton and other garments. The sleek and polished shine gives a spectacular look to these fabrics. Also the slim fit and elasticity enables the apparel to fit on your body with much comfort and bring out the woman in you.
They come in variety of shapes for neck and a bolder look comprises of open bust area with frills and zigzag laces. For men similar leather garments are available which underline their muscles and draw attention to their body shape and toughness. The shorts have a feel of sensuousness and bring out the assets of both the gender in limelight.
So, get yourself decked up in various kinds of leather apparels.
Comments