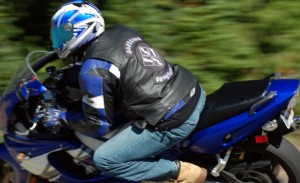 If you are a motorbike rider and leather jacket buff then it's the right time to buy one of this apparel. Everything depends on the kind of nature you possess that will define the right kind of leather jacket for you in such situation.
Remember that besides style, leather jackets for motorbike riders prioritize safety for you. You have to face all kinds of weather conditions and harshness while going for a ride and it is necessary to protect your body against hot and cold winds and modulate your speed with perfect arch of your body.
Leather jackets lend for these supports and keep your skin untarnished and unfathomed by natural forces that would otherwise make you nervous. While riding bikes, these jackets give a grip to your upper torso and ensure a balance in your movement and stance.
Choose the leather jacket you would be wearing according to the season and climatic conditions. Most of the leather jackets are made of cowhide as they have a stronger material and have a hardness which is required to keep your skin cautioned from scratches and blemishes.
If you are going out in winter then consider leather jackets with minimal vents as they will keep your body cozy in natural heat and keep the cruel snow storms and particles from hitting your skin at bay. The tough gales can upset you from bike, these leather jackets therefore have enough padding to see that you are stable in your position and enjoy and adventurous ride.
If you are riding in summer and spring then have leather jackets which are well designed for keeping the air circulation at go in its material's layer. These jackets have more vents and protect your skin from sunburns and traffic of dust. They don't let stains and blotches to percolate easily and keep you settles and upright throughout the ride.
Now as you can look out for various styles available in such jackets. You can have an escapade wearing leather jacket having slant and v-shaped zip ups at the pockets or a front and zip down closure according to your choice. Having pockets or not is completely your discretion based on your feasibility.
Some of these jackets have more intricate details of designs and patterns and can be characterized in different colors and shine. You can go for a simple leather jacket which will have a plain exterior and minimal numbers of pockets and your choice zip up or button closure. If you want to sport a more modern look then go for laces and frills which can be etched on the back or front of pockets or the jacket itself.
Before buying leather jackets for riding, know your destination and necessity for them.
Comments