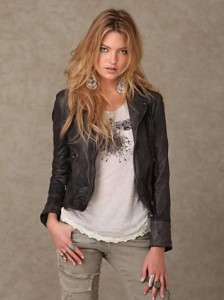 Leather clothing always come back stronger every season and this is one piece of clothing which you can call it an investment. Leather is never worn from head-to-toe but they are always combined with different piece of clothing like denims, floral prints, pencil skirts, cigarette trousers.
It has been an accepted fact that leather has no age and this is one fabric which has enjoyed history. Eve in the Paleolithic age you can find painting where you can notice out ancestors wearing animal skin.; though its not designers but its hand made, the reason being is simple leather is a rugged fabric which lasts for a very long time…unless you grow out of your favorite leather clothing. You know the history about Greeks and Roman who conquered the whole world and used leather for military purposes.
Leather only got famous because of cinema; remember the movie "The Wild One" in 53 where Marlon Brando was seen wearing a leather jacket and then it was an instant fashion rage.
When you are plan on buying a leather jacket the best option would be to go for a classic style. Opt for a style that can make any dull outfit look vibrant; it should be like a soul of the outfit. Keeping the classic style leather jacket as a back up you can also opt for a customized fit and style which can be tailored as per your size and will fit you perfectly.
You can always pair a biker leather jacket with skinny jeans; flare pants with a pair of flats or platform shoes this is ideal for casual fit, you can also wear a leather jacket wit pencil skirts and formal trousers top create a formal attire. Leather is nowadays even accepted as a formal wear….. Well! This is an update…just in case you did not know this.
The other option would be to pair your leather jacket with a long dress or a pair of shorts combined with short boots; do not forget to accessorize your outfit with a trendy clutch bag and a necklace just to soften the rugged look of leather and make it look more feminine.
Comments