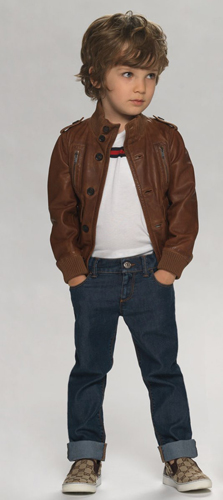 Leather is timeless. It's elegant, it's trendy and it's classy – qualities your child need not have just yet. So do you think it's a good idea to dress your kids in leather? The answer is absolutely yes. Kids may not have to dress to look elegant or classy but they do need constant protection while they are playing and dressing them up, well, never hurt anyone.
Kid's leather jackets are extremely popular. They keep your little bundle of joy all bundled up, protects them against the elements and looks quite spectacular while doing the rest. Whether you are going out on a trip or just sending him to play or just taking him or her to the park, a leather jacket is a wonderful idea. Leather as a material is is extremely soft against the skin – guaranteeing your kid a comfortable fit.
Leather pants are quite fascinating too. If your little one enjoys running about and takes a tumble now and again then a leather pant is a superb way of keeping him protected. Leather is one of those fabrics that can survive abrasions and wear and tear taking most of the damage on itself. That's why leather is used to make motorcycle jackets. Remember not to get your kid a tight leather pant though. He or she has plenty of energy and would love to run about, jump and climb. A tight leather pant would simply constrict his movement. Pick out something roomy and fun.
Leather blazers are fabulous for church wear or any other formal occasion. Your little angel would look wonderful going for a birthday party with a nice little leather blazer on.
Do remember that you are dressing up kids so opt for the bright colors. Blues, greens, pinks, whites, reds – all make for wonderful leather attire. A great way to purchase leather clothing for your child is to order online. They come cheaper and the best thing is that most online shopping sites allow you to custom make your choice of leather store to your kid's exact specifications. Please do check the credentials of the web site before ordering though.
Comments