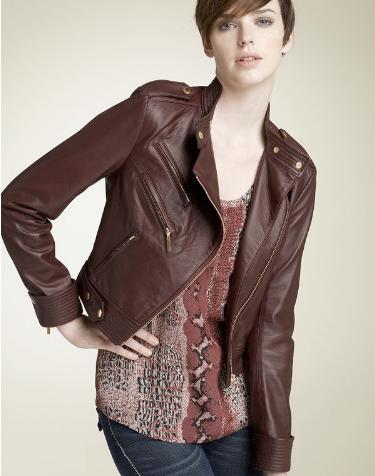 All leather jackets are delicious. They look fantastic. There are plenty of choices out there too. The hemlines vary from short to long to high to low to asymmetrical. Then there are leather jackets with metallic embellishments, the simple ones with a central zipper – the choices are numerous. Another thing that stands out when it comes to leather jackets is the various types of collars available. A collar can pretty much help decide which season the leather jacket belongs to. Below are few of the more popular and adorable leather collars.
•    Notch collar:
A notch collar is basically a type of jacket front which tops a row of buttons in the garment's center. The notch detail is typically in the lapels attached to every side of the collar portion which fits around the neck. Instead of a plain, straight or curved lapel section added to the neck part of a collar, a notch, or cut out section, highlights both the lapels. The V shaped notch usually gives clothing a formal look. A leather jacket with a notch collar works excellently in the office environment.
•    Band Collar:
A band collar or a mandarin collar is a standing band shaped collar which encircles the neck of the leather jacket with a full turndown or a collar cape. While it can be any height or stand, it is usually below 2 inches at the front, so that it does not push up into the chin. The band collar is usually used in winters for warmth. Some are even equipped with a hood.
•    Shawl Collar:
The shawl collar also known as the shawl lapel or the roll collar is basically a notch collar with a continuous curve. First witnessed on the Victorian smoking jacket, it is now most found on the dinner jacket or the tuxedo. A leather jacket with a shawl collar is fabulous for informal eveningwear as well as semi formal versions.
There are plenty of other collars defining leather jackets as well like the flat collar, standing collar, rolled collar, tab collars and so on!
Comments