Leather fashion has grown by leaps and bounds lately. The leather apparel industry has undergone a major overhaul which makes it all the more easy for leather aficionado's to satiate their craving for this durable fabric. The rugged leather look embraces all and when it's a red it's definitely an icing on the cake. If you want to take a break from the humdrum black, a bright and fascinating red is sure to breathe life into your wardrobe and make you look like a million bucks.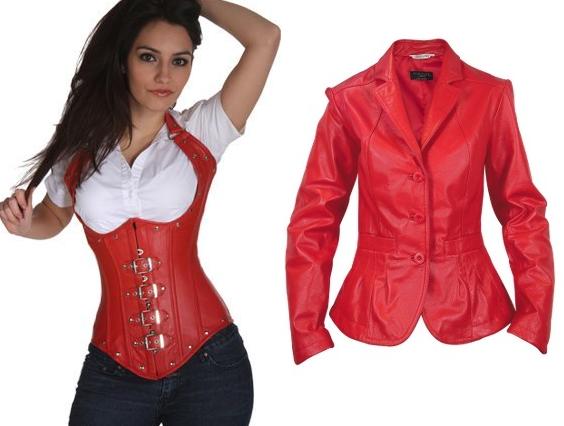 A red leather jacket is every fashion conscious woman's delight. It is sure to create an enviable combination with whatever you team it up with. There are myriad styles available in women's leather jacket. You can always opt for a red military jacket, something with epaulettes on the shoulders, nickel studded or a sporty red bomber etc, there are options galore.The latest vogue is cropped jackets. They are jackets that are exactly waist length or higher. They look supremely stylish on women. Also jackets with ribbed cuffs create quite a statement. Men can create a fancy statement by donning a red notch collared or a plain stylish bomber jacket. The red color would definitely accentuate their sex appeal to the hilt.
Red leather pants are another hot style that is sure to make you the cynosure of all eyes. You can never go wrong when teamed up with a smart white tee. Playing with colors like these always breaks the monotony. Skinny, straight cut, boot cut or low waist pants are options you can explore. Red has its own charm. You can look like a style icon if you have worn the right combination. It has the power to attract and leather looks the best when it's a red.
If it's a party or a casual get-together with friends, women can don a leather halter top or a leather mini skirt. Teaming up plays an integral role in whatever you wear. A black and red combination looks fantastically swanky. If you don't want something in complete red, you can always opt for something that has a tinge of red in it.
For instance, a jacket with black and red combination will look good. A harmonious combination of a smooth durable fabric like leather, a chic pattern, edgy cut and a magnetic color like red is sure to make you stand out from the crowd.
Comments