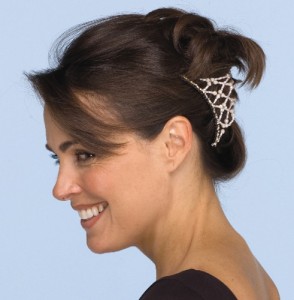 Just like dresses, accessories are for hairs also and known as 'Hair Accessories'. Hair accessories flatter hair greatly and give them resplendent look. They add soft and elegant touch to the hairstyle which in turn spices up the entire appearance. Hair accessories have become a style statement nowadays. They are many in numbers and few of them are cited below.
 Tiaras
 A tiara is one of the most beautiful hair accessories women can ever have. It is so exquisite that it can make any woman look good wearing it. They impart a unique look to hairs. Tiaras come in different colors, shapes and sizes. They are generally worn with gowns.
 Hair Scarves
 Hair scarves are the most unique hair accessory and are greatly in fashion. These carves come decking with different types of prints, designs and colors, thus you have various options to opt for. Wear the one that complements your outfit for the best look.
 Barrettes
 Barrettes or hair pins or hair clips are the most common women's hair accessory. Many hairstyles are created using barrettes. They are used for gathering all hairs at back or for making French roll and so on. There are many types of hair clips like hair clamps, ponytail holders, comb clips, metal and plastic clip, etc.
 Headbands
 Headbands are one such hair accessory that has never loose its essence in the fashion world. Even they became more popular with time. All age women wear them. Headbands can be worn with long hairstyles as well as short hairstyles both. They hold hair back firmly, thus highlighting the facial features. Headbands are available in so many styles, fabrics, colors and designs which makes them wearable everywhere like casually, formally or at glamorous events all.
Hair Bands
Hair bands are one of the most basic hair accessories. They can be taken to any event and are ideal for making ponytails and braid hairstyles. They completely secure hairs by looping twice or thrice. Scrunchies are latest in fad in hair bands and do come in various colors, styles and embellishments.
Hair Extensions
 'In Vogue' accessory for hairs these days is hair extensions. They are mostly used by women with short hairs. Hairs appear long by donning them and also different colors can be sported in them. This fashionable hair accessory is easy to use and can be easily removed.
 These hair accessories can create any hairstyle you love.
Comments