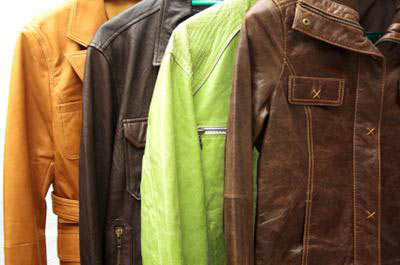 Your leather apparel does not come cheap. I won't go all the way out and say that it costs an arm and a leg but your pockets would most definitely be just a tiny bit lighter. So it goes without saying that you would like your leather jacket to last a while! Here are some simple pointers to ensure that your jacket has a longer life span:
• Brush down your jacket with a damp cloth everyday to get rid of all the dust and grime. Dust settling, over a period of time, can make your jacket stiff which will eventually cause it to crack.
• Store it in a dry place devoid of any moisture. Never keep naphthalene balls next to your leather jacket.
• Never bundle up your leather jacket while storing it. Make sure you keep it on a wooden hanger.
• Leather is basically skin and skin needs to breathe. In other words, avoid packing leather up in plastic bags.
If you do get a stain on your leather jacket just follow the following rules:
1. My first suggestion to everyone is to take it to the dry cleaners once a month or at least once a fortnight. They are professionals and you can be rest assured that your leather jacket is in safe hands.
2. If you are confident about yourself, then you can also try out these home remedies:
• For blood stains, take some mild conditioner in your hand, lather it up with warm water and rub it on the spot. Always ensure that the shampoo or soap you use is mild. Never use shampoo or soap directly on the leather jacket. Once, you are done lathering, just rinse the spot with warm water and leave it to dry. Pick a drop spot, away from direct heat.
• Please note that if the blood stain has dried or set in, you may not be able to get rid of it so easily.
• Sweat stains can be taken care of with baby shampoo or fabric softener. Treat it the same way you would blood stains.
• If wax has seeped into your leather jacket, then you need to place brown paper or blotting paper on the leather; set the iron on cool and gently iron till the wax seeps into the blotting paper.
• Oil is probably leather's worst enemy. Leather soaks in oil immediately and getting rid of the stains are almost impossible. At best, you can use some mild conditioner to even out the color of the stain. If the oil stain is fresh, immediately mix soap flakes with a few tablespoons of warm water and rub it onto the spot. Rinse thoroughly.
Comments