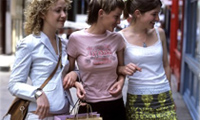 Shopping is mostly associated with women because it is considered one of their most likeable activities. There is no doubt women enjoy shopping. But the major question is what's so fascinating about shopping that attracts women?
If a question has risen then surely it will have certain answer also. Foremost important thing is shopping is an adventure means an exciting undertaking in which one come across many enamoring things, trends etc. Even one glance on them is enough for getting refreshed. It gives chance to see the goods for instance, dresses, jewelry, make up things, bags, shoes and accessories etc. Purchasing is not must for Shopping. Just by having a look on new fashion statements one can find joy. Term used for such shopping is window-shopping.
Apart from finding joy, shopping also gives a great chance to meet friends and spend some time with them. There they hang around, purchase things and remember their old days, gossip about their lives, share opinions about their get ups, children and family and so on. While other women go for shopping to spend some time in alone. It gives them time to think over the left over issues need consideration.
For some women shopping is a way to get change from their routine lives. For taking breaks they go out and brushes up them. It may be for little time but diverts their mind from mundane works and appreciate other things. They feel relax and rejuvenating and when return home are able to concentrate fully on their works. Moreover they purchase things for their loved ones such as their husbands or children. Also shopping is a very good way to make good use of leisure time. It also gives nice feeling and spares from getting bored.
One important point not told yet is that almost all women have great bewitchment for fashion and trends and to get updated regarding them what can be a better option than shopping. From knowledge viewpoint also it is very good. Nowadays shopping has two aspects i.e. online shopping and off shopping. According to feasibility women can opt for any. Both types of shopping are excelled in their own ways.
For certain after reading all this it will be clear to you why women love shopping and spend so much time in shopping. It is an art and one should learn to see it from positive standpoint. Shopping is a great pleasurable experience, if done with free mind. Enjoy it.
Comments