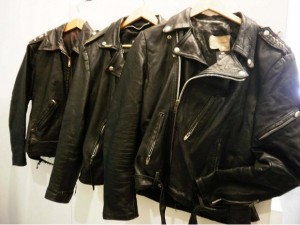 Motorcycle leather jackets are not only designed for that stylish but they are designed to offer protection to the rider form cold harsh winter winds and from abrasion. These leather jackets are available in abundance in the fashion market. If you have plans on buying a new leather jacket since your old one seems to be out of fashion or has lost it shine then keep reading this article to renew your old leather jacket and ride high in style donning a new wit your old rider jacket.
These tips will help you retain your leather jackets beauty as leather needs frequent touch up, so lather conditioners is a good option as leather looses out on its natural lubricants after it is used for a long time. To protect you leather jacket from dryness you need to take proper care so that you jacket does not crack and this will also help you to take care of your jacket from mildew formation….
So here are your tips…just follow them and take care of your most favorite possession.
•    Unprotected leather should be protected from water and other liquids as they lead to formation of stains. If you have purchased new leather apparel it should be treated immediately to take care of permanent stains. Avoid using excessive oil and wax products which will not only block the pores of leather but it will also lose it ability to allow air intake.
•    It is always advisable to hang leather items on wide padded hangers, the shoes should be fitted with shoe trees and also stuff papers or empty handbags so the leather products retain their shape.
•    Avoid storing leather products in plastic handbags as plastic will not allow leather to breathe as it is non porous. Leather products need to breathe and they need some ventilation or they will lead to mildew formation.
•    Allow leather to air dry and try to keep it away from heat or fire, a little leather conditioner application will actually get rid of the dryness making your leather flexible and supple.
•    During winters leather products lead to salt formation which should be cleaned using sponge with clean water.
Follow these five tips to keep your leather happy and smiling and go easy on your pocket before you plan on buying a new leather jacket just because you old one is out of shape or has dried out. Keep reading this pace for more tips on cleaning and caring of leather.
Comments