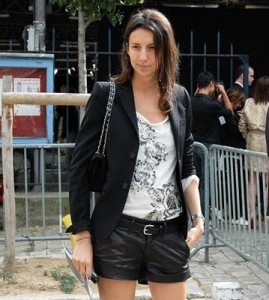 By all means leather shorts can be worn in any season summer, spring or winter depends upon you. It can be beachwear, sportswear, evening wear, party wear etc. It is keys to casual flirty fashion of style.
Before wearing women leather shorts some things has to be taken into consideration being perfect cool lady. Your legs should be well waxed from thighs, the skin should be protected with proper SPF lotion and moisturizer since it is going to expose direct under sunlight.
Leather shorts are available in various standard colors like black, brown and beige. Else you can surely buy various other avail colors in leather shorts to suits style statement and suiting of yours. Leather shorts will complacent your desire for coolest trendy wear. It is now time to remove your well toned legs out of long pants like jeans and trousers to leather shorts for some new taste of versatility; if you are really fashion enthusiastic lady my dear.
It is very need of yours to add some stylish various types of leather shorts to the closet and well managed wardrobe. Yet leather shorts are not restricted only towards any specific climate or even body figures. A proper measurement and well tailored allows any cool sweet lady or girl to wear leather shorts with proper matching upper bodice parallel wear.
Some flirty juicy trendy styles whispering in colorful leather shorts:
•    Red Leather shorts with turquoise or ocean green-blue shade color tube chiffon top. Silver metallic high heels
•    Black leather shorts fitting with waist leather belt accomplice it with satin or silk sky blue color collar, long sleeves shirt. The shirt should inner in leather black shorts and ankle cut out heels shoes.
•    Light red leather shorts (bit long on thighs only) and cream or ivory color long sleeves shirt and brown leather toe pointed heels.
•    Black leather short with folded hems, olive green long sleeves loose top, matching bold bangle-bracelet and long twisted black neck piece, long leather crunch boots with some heels brown or black color.
•    Dark beige leather shorts, white plunging v neck shirt, white feminine buttons coat over it, brown glares, and orange toe pointed heel pumps with loose curvy highlighted hair.
•    Black Leather shorts with light beige chiffon shirt, dark beige thigh length coat or dark beige color leather short and light beige shirt but this time no coat.
•    Black leather shorts and blue woolen sweater top, accessories with hand bag.
•    Black leather shorts, sheer or net stockings, grey suede heels shoes, Leather tops with dark black shade blazer.
•    Leather shorts of any color with bomber leather jacket
•    Leather shorts and leather halter tops is excellent audacious style.
It is not necessary that leather shorts has to wear with high heels only thus if it is going to be your beach wear you can still wear it will syrupy flat or ballerina flats.