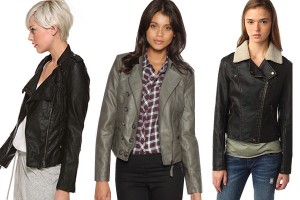 Leather jackets are among smart apparel in unisex product which gives both feminine and masculine appearance in proper sense. They are very stylish and fancy throughout all the season. Over the last few years to make leather jackets more trendy and spectacular in appeal the manufacturer had started making colorful jackets. Let's see the best three leather jackets, which are universally accepted.
Biker Leather Jackets : With cloths and accessories vehicle like bikes, bullets have also become style and fashion icon in the society. Young masses want to be comfortable and stylish with two-wheeler accessories.  Biker jacket is famous among the bike and bullet rider. It is not only comfortable and stylish but also safe. A biker jacket protects upper body from direct sun light, dust, and dirt especially during winter it keeps body warm. Keeping in the mind the demand and need for biker jackets in market many branded bike companies had started introducing biker jackets under companies' name. The best feature of biker leather jacket is that it has versatile utilization of zips for pockets, straps, and cuffs. Zips make it look more trendy and young.
Bomber Leather Jackets: Want to look cool like in Hollywood? Then bomber jacket is one step towards celeb-dom. From Daniel Radcliffe to David Henry almost every celebrity has enhanced their personality at events or regular routine life with bomber jacket. Bomber jacket is one of very expensive leather jacket. It is leather coated with butter touch from inside to keep body temperature calm and warm during cold winter. Bomber jackets were specially manufactured for air force pilots to keep them warm under low temperature during a fly. In terms of aviation world bomber jackets are also known as flight jackets. But as centuries passed it changed its uses and came into world of fashion. Teenage, young to Hollywood celeb, all became fond of bomber jackets. It makes them feel comfortable to wear in regular basis life. Women bomber leather jackets has got many variation in accordance of color, pattern etc.
Leather Blazers : Make any boring formal to informal attire stylish with just putting up leather blazer on it. See drastic change in your appearance and personality. Leather blazer makes personality look more pleasant and admiring. Leather blazers are usually of two to three buttons. Even though leather blazer falls under category of blazer doesn't mean that it can be wore only in formal days but also in your casual parties. It gives a huge impression to the second person. Leather blazer is prominent choice of fashion conscious people.
Make your wardrobe and personality stylish and upgrade with above three internationally famous jackets. These three above patterns of jackets are very renowned, no doubt that you won't look outdate or out of style. These three styles of leather jackets are always in trend to keep it stylish.