Tag : partyware leather dresses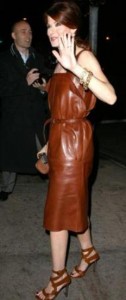 Choosing excellent club wear is up to your choice of taste and preference. The main basic theme of feminine party wear is bold and sexy. Women intentionally go for high hems or bold types of necklines. Generally, there are two club wears, which can either go in short hem and sexy feature is dresses and skirts.
Skirts and dresses you can tailor in any form and desire it according for making own fashion style statement. Club wear mostly expected to have bit spice of seductresses so to do it in such a way the attire has to get such edgy feature.
Beside the hems and pattern in skirt or dresses type of fabric also play key role in making it so adorable. The fabric should be body fitting but not as discomfort or which might also result malfunction. Many of them use material, which will also require less embellishment and are lightweight ultimately. Such fabrics are like satin, taffeta, leather, sequins etc. Such types of in nature has gloss and shinny upper surface with smooth inner lining keeping the wearer breathe and comfortable.
Today in most clubs and discotheques, we can see the young beauties are much preferred for leather dresses and leather skirts. Both these clubs wear looks awesome and with minimal options easily immerse with the mood of club mist.
You can also find sequins styles in leather material and transforming it into a dress or skirt. You can the design leather material with different color of sequins and forming in types of designer effect. Both leather and sequin have a glossy shinny effect, as it will get more highlight in light of clubs or discotheques.
Some abstract or unique type of design patterns looks fabulous on leather skirt and dress. When considering wearing leather skirts at club mini skirt hem is generally preferable by young women. Just by adorning one of leather miniskirts, they can accomplish versatile looks of them for every next time making the mist to say just gosh.
When it comes to leather dress, go with sheath silhouette that takes the shape of wearer. Sheath silhouette easily goes with any type of body structure. Not necessarily club leather dress has to be very high you can keep hem short also up to above knee length and managing to looks saucy spicy.
Leather is now easily available in extreme options for you to make dress or skirt lustrous with varieties like colors, types of material etc.  Considering to club choose the color of leather skirt or dress that is bright and bold like black as off course and then followed by red, teal blue, purple, chocolate brown etc.
Go for sassy bold accessory but see that they are not heavy to hold.  You can wear silver metal multiple bangle bracelet or else you can wear leather bracelet also matching one of your leather dress or leather skirt.