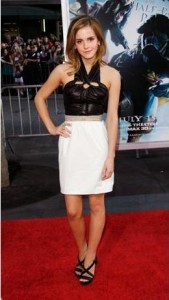 Halter leather top is one of vintage dressing style. It lost its charm for sometime but now it's again in modern trend. Like history fashion too repeat itself. Very young talented actress of Hollywood Emma Watson was in seen in halter top during one of Harry potter premier.
Leather halter top is casual wearing and not any formal wearing. It is best option for party, clubbing, date, horse or bike ride etc. They are very trendy and fun loving. The best option it is very comfortable with variant styles and patterns. Sexy leather halter tops are available in many colors like red, blue, brown, black and even yellow.
You can have your favorite leather halter tops with collar or without collar, v-shaped neck, cowl neck, crisscross back, plain back neck. Cowl neck leather halter top is option for women who has large or broad bust. Whereas V-shaped neck can be bold deep or simple. Depends what kind of pattern you prefer to look sexy. The best time to wear leather halter top is summer.  Wearing halter leather top in summer will directly expose your skin to sunlight; don't forget to apply some suns cream.
Ideas that will grace your charm even your leather halter top
Match up your leather halter top with sweet sexy mini skirt or with long skirt with high slit to it. The color and fabric of your skirt should complement and go very well parallel with your chosen leather halter top. It is better to choose leather fabric skirt rather than any other fabric made skirt. And get sexy flirtatious appearance in your persona.
If you're not comfortable in wearing mini or long skirt with high slit cut opt for bell bottom jeans or trouser. Walk in the event or occasion with ease and elegance. Keep in mind will seat or stand your body posture should be erect. Erect position in any dressing talk about your attitude towards other. Skip if your with friends it's better to be casual.
If you're uncomfortable wearing deep neck leather halter top in public place, scarf will solve your problem. Some lather halter tops are truly deep. You love deep neck halter tops will clubbing but in between travelling do takes place which makes you uncomfortable to be in front of strange in such attire. Wrap a nice stunning scarf around your and make diverse dual look with scarf and without scarf. Wrapping scarf around your will not make your comfortable even in crowd of strangers but make you notice to adore your style for their next attire.
Using accessories doesn't mean that jewelry is only part of it. Your leather halter top neckline is enough to define delicacy of your neck. But still if you want wear single gold or silver chain with single tiny pendant say no to bold or big pendants.
One strap bag of dark and dull colors wear it in cross or slanting style on leather halter top. But this you need to remove your chain because the strap of one strap will obviously hide it. Then why there need to wear it? Footwear that suits with leather halter top is toe pointed heel leather sandal.
Leather halter top is not at all a formal wear. Don't wear it for your office use, for an interview.  Formal wear has to kind of skin hiding whereas leather halter top doesn't make stand over there. Your senior and HR recruiter also judge you on your dressing. If you wear leather halter top at your office or interview then will assume as if going or coming from party and not serious about professionalism.