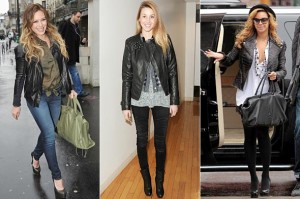 You admire celeb and celeb adorn leather outfit. Even though it is notorious summer, many celebs seem to be enjoying this season in sexy leather knee dress at their happening parties and events. Not only dresses but leather skin fitting trouser, legging is up enhancing celebrity trend.
Late James Dean, Late Elvis Presley and late Michael Jackson are best example to make one understand what does a really leather iconic fashion mean to lookalike a celebrity. James endorsed leather jacket, Elvis hammered fashion of colorful leather jumpsuit and leather pants whereas Michael's red leather jacket haunted style. All these wear just unisex phenomenal style. Surprisingly all this leather apparel even after so many decades and the stars passed away is still ruling in fashion world without any doubt.
Bomber leather jacket is very much liked by both male and female celebrities. David Beckham, Tom Cruise, Rihanna many such outstanding stars were caught in Bomber leather jacket. Bomber leather jacket is one of finest and expensive jacket. In compare all other leather jacket it is more soft and flexible yet stylish. To lookalike stylish like celeb pair up bomber leather jackets it with simple preferably black or white t-shirt and nice fitting denim jeans or pair it with sexy legging overwhelm it with mini denim skirt and cover the collar with stunning scarf.
Would like to tell this time on red carpet actress cum singer Vanessa Hudgens wear seen wearing mini shimmery black dress flattered with sexy zipper bomber leather jacket. Short mini dress with bomber leather jacket stood up her in best dressing list on red carpet eve.
Sexy stunning long leather gown has hypnotized hot Angelina Jolie. Most of event and awards Jolie was caught in black leather gown with sexy high slit cut. You can go for leather gown and make distinct iconic spotlight attention in crowd. Go for strapless neckline leather gown as same like thrilling entrance made by Angelina at these years Oscar red carpet night.
Steal the glamour of Miley Cyrus in leather fitting trouser flattering with lace sheer top.  She looks really very chubby in leather trouser pant with nice white or ivory full sleeves top. it is quite cool and young look. You will look sweet as well comfortable in this attire.
Try these above suggested leather apparels in your styling list. To get exact and perfect celeb look keep their original clear photo in front of your dressing table while getting ready for function. So you can't leave a single pin point of their look. Bluff your friends or any crowd becoming a phenomenal replica of your favorite celeb.