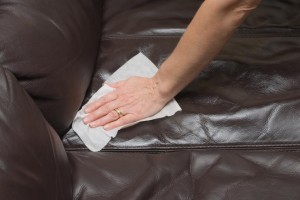 Leather clothing does need less safeguarding because it has many such qualities, which normally any other fabric does not possess. Leather has its own qualities, which makes it stay fresh and glowing for life. It is not mean that it does not need any care. Yes, it needs care but in really in low amount. Hence, care your leather fabric in lower amount to get best results out of it.
Leather fabric is delicate yet strong. It is easy to clear stains on it but we have to take care that it is not losing its glossiness or color and its perfect texture. Even if leather does not need a proper extra care it do need some amount of care where you have to decide what you need to clean as every stain has its another method to clear it from leather fabric.
Some things you have to keep a tab on are do not let the leather fade its color, it shouldn't get wrinkles on it and keep it dry always after clearance as it is a animal skin after all. If you will keep it dry it will live long with you.
Simple steps to maintain your leather garments and leather items are given below make a use of it and keep your leather glowing and let it last till the end:
    If your leather garment got wet then, let it get dry completely and do let it dry on normal temperature.
If your leather clothing becomes stained then you have to pay a little more attention. You have to find out the stain type and have to take up a proper solution assigned for the satin and clear it with wet cloth and let it dry again.
Do store your leather clothing on by hanging it on a wooden hanger it maintains it shape and wood is also a natural material so doesn't causes any kind of reaction with leather clothing.
Do store your leather clothing is normal environmental temperature as well as open area. Leather fabric knows to breathe and hence temperature and area do matters when it comes to storing it in a cupboard.
If you afraid of leather clothing will get affected by dust as, you storing it in a natural environment do cover it with breathable cloth like cotton.
After you clean your leather clothing do not forget to apply little oil or conditioner on it to maintain its smoothness and shine.
Do use mild shampoos and conditioners to clear leather fabric to maintain its structure and keep it away from getting wrinkles.
Do rinse properly all the shampoo or cleaning material to keep your leather fabric healthy.
Do not dry it under extreme sun or heat it will lose its color.
Do wash leather fabric with warm water and moisturize it properly and on regular intervals.
Do refer guidelines to clear stains of blood, urine, etc. and keep it dry and moisturize well to avoid worst odors.