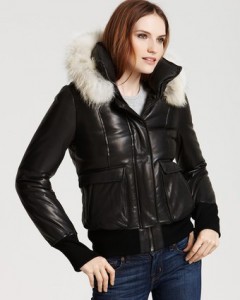 We all know that how leather jackets in recent times have been associated with most of the bikers for whom biking has been an immense passion. Not just bikers, even all those stage performers have been loving the various new styles among leather jackets and are thoroughly keeping a check over them. The scenario has been as such that almost every one be it a guy or a girl has just been getting amazed by the fact of the recent arrivals among these leather jacket and one among them being a bomber jacket. Anyone wearing a bomber jacket is bound to carry a coolest attitude and also a tough and masculine look over them.
The rising craze for these jackets has not just created scope for all those fashion designers to design leather jackets just for men, but also for women is well. Leather bomber jackets have had a huge impact in today's fashion world and not just men; women too have been an ardent fan of those attires. Leather bomber jackets have been of such a kind that every woman is trying out immensely hard to own at least one set for them right inside their wardrobe.
Many women these days massively love the fact that their attires should attract the other onlookers at the party. Their huge desire can now be surely fulfilled by means of wearing the most posh looking leather bomber jacket this fall. Fall is certainly a time when the entire day is extremely pleasant and all the way the cool breeze passes by. On such a gazing scenario if in case there comes an invitation for any get together or party then do not hesitate to wear this fabulous piece of attire. Leather bomber jacket could surely be something that would keep you at the glimpse of everyone's eye. The style of these jackets looks extremely sophisticated and you might even end up being the limelight of the entire party.
Leather bomber jackets are best known for their classic comforting style and nature. Fall would be the best season to flaunt around your best dressing abilities as the whether during this time is extremely chilled. Get that extreme warmth within the outfit you wear, by means of wearing a leather bomber jacket. Some of them may be a bit more expensive but the way they give a perfect value for money is simply unbelievable. Leather bomber jackets are of a kind as such one time investment. You can wear them more then once and still they are not as that may loose their freshness. The way only the best animal hides are being made use for the making of these bomber jackets are the main reason for these jackets immensely hard and tough quality. Therefore, if you want to shine this fall by means of the best looking and smart way of dressing then a leather bomber jacket is the one to go for.