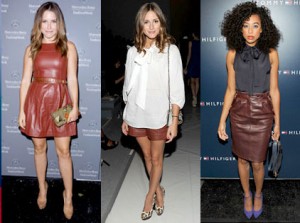 Numerous fashion designers have known the fact that how several leather attires has been rapidly becoming something that is truly fascinating women in a big way. Almost every fashion designer has been trying to come up with something or the other new varieties among leather attires for women. Women who immensely love to have a different sort of look every time they dress up for them. There is no better outfit then draping in something in leather. Soon the season of summer would arrive and all your fashion craze women might surely want to know what sort of leather attire would give them that perfect sort of trendy look in order to shine this summer season.
There are some numerous leather attires that have been in trend these days which would serve you best to shine this summer. Here are some of them:
Leather Shorts:
These are the trendiest looking outfits that would surely give you a dazzling look. Gone are the days when you used to wear those denim shorts during extreme summer, but now certainly the times have changed as well as the fashion sense among women too have evolved in a big way. Therefore, it's high time that you replace your old denim shorts by that of these truly blazing leather shorts. They can be an outfit in which you can be at the most peak of your comfort zone as they the kind of fabric which they are made up might truly enable you to move freely without disturbing you or crating any sort of discomfort. Showcase your finest pairs of legs by draping this scintillating leather short and create your own trend among others and make this summer look extremely fashionable.
Sexy Leather Skirts:
There you go one more sensational leather outfit for you to sizzle up this summer and have an immense fashion impact among others. You have certain different sized leather skirts for you that you can certainly opt for based on your height. There are some numerous varieties and designs among short leather skirt as well as long leather skirts too. They are prone to suit any kind of body for sure and give you an aspiring look to be the limelight and the glitter in any of the place where you move.
Breathtaking Leather Dress:
There are some really fascinating leather dresses for you if you are about to attend some special occasion wherein along with being trendy you got to have some really elegant look as well. This outfit is just that perfect sort of outfit that can make you go extremely scorching throughout the entire event. You are prone to grab several attentions towards you for sure. If you drape in this heart throbbing outfit over you with some really good bright colors that can probably make you the shine this summer for sure.