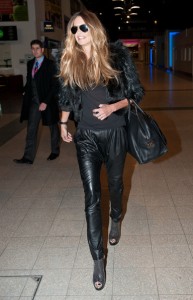 Leather fabric is mostly preferred by many people as nowadays everybody knows the usages and advantages of the leather fabric and hence, they do prefer to wear many leather clothing for their parties and offices also. Leather clothing is famous from many years. These clothes never leave their first position in the fashion world hence; they are called as the fashion iconic clothing for women.
Women do love to wear clothes, which exhibits fashion and style. Hence, many women do wish to wear many leather clothes for their parties and their office also. Leather clothing can also give the official look when you need. Leather material is flexible. It molds the way you want to mold and many designers that is why prefer to design clothing range from leather fabric. Leather fabric is versatile and helps you to get the finest attire as per your need hence, many party-wears you can wear for your office also. You just have to pair them up properly.
As leather, clothing helps you to get the maximum advantages and also provide you the finest looks many women wish to get the one for them. Leather clothes range is amazing and leather pants are the finest outfit made for the women who love to get fashionable clothing every time. Hence, you can surely get some fashionable leather pants that will evoke your beauty of legs and also will make you look trendy in the parties.
Black leather pants are much famous amongst women because they look good as well as you can combine them with many colors of outfits. You can get many colors of leather pant in the market but it is recommended that you should choose the black leather pant for you, because they look gorgeous on you and the night black color helps you to define your bold looks even if you are not exposing much of your legs in the party or ion your office.
Black color has its own identity and it also helps you to get the bold looks. Many women do hesitate to expose their bold side but you can confidently make visible your bold side it will ravel your inner glow and also will boost your confidence and make you look gorgeous.
Black leather pant can be used for many occasions such as you can use them for generous parties where you generally need a glowing look. You can use these black leather pants and pair them up with the bright colored shirt or t-shirt so that you will receive the finest looks for you.
You can also wear these leather pants for office. Black is the color of your formals also. Hence, you can use them for official meetings as well as you can also use them for ceremonies which are conducted in your office. Just you always have to pair these black leather pants with proper clothing. You can combine them with any colored formal shirt.