Category : Celeb Style
What makes any celebrity apart from common person is their lifestyle and dressing. The celebrity dressing is always unique and sometimes drops in the bucket of controversies or gossips. Kim Kardashian is among few of these celebrities whose way of dressing makes huge headlines. Hence, at end whatever it is this unique kind of styling helps them to get more attention with fame.
Recently Kim Kardashain was in news for wardrobe malfunction; as her leather dress's back zip just buckled off was seemed to be so tight fitting. Apart from talked about her controversial dresses, we are going to let you know some of best leather outfits carried out by Kim.  After the listing of her amazing leather outfits and way to wear them, even you can make such appeal by getting easy way inspiration.
We will start from of her recent leather outfits and then moving towards the past one.
This looks of Kim is wearing red bubbly leather skirt for evening date with boyfriend Kanye. Kim basic physical appearance features highlights encompass petite height with curvy hourglass figure. Thus, she is also good example for women with such features.
Let's move on her red leather skirt wearing. As it was romantic evening date with her boyfriend, Kim was supposedly to wear stunning appealing outfit. She chooses to wear red leather skirt. It was a high waist skirt of pencil knee length silhouette. She matched the skirt with as brown top. The top featured deep V-drape neckline with balloon full sleeves. She matched the overall get up with the big frame sunglasses, designer handbag and knee length black leather boots.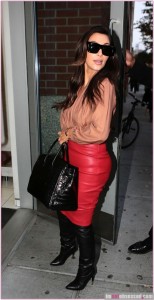 Do want professional glam look and can't think leather to make picture perfect then here the Kim's look as fine example. She wore black fitting leather pant with black inner top and a black smart looking blazer. As formal look, she managed to keep her accessory and styling simple yet minimal. She put on gold bold choker chain around her necklace and bold size handbag. Thus, instead of leaving hairs in air she gather them altogether and tied above.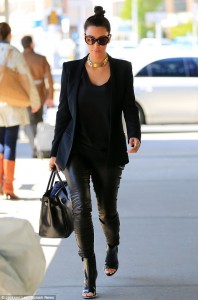 This dress of Ms Kardashian that faced the malfunction but it is also among one of best looking attire. She wore  black knee length leather dress with sheath silhouette and long sleeves. The dress got sophistication touch with high neckline. She almost had no accessory with dress. Just few makeup touch ups and her whole get up was ready. You can have this kind of getup for your various formal parties or for special romantic date too.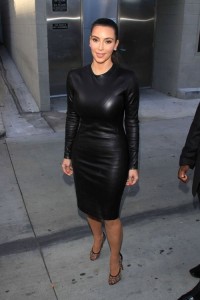 For day limelight, you can get her looks by wearing loose printed sheer tops with any preferable matching color leather pant. Accessorize with wristwatch or wrist bracelet. Let your hairstyle to blow in air with neutral makeup touch up.