Archive : October2012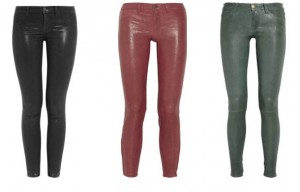 Today, almost every woman has been big time developing an obsession for looking glamorous or fashionable. They way even all those well known fashion designers have been keenly bring out those fabulous designs and patterns within leather attires have truly been exceptional. With their consistent new arrivals in the fashion world they are keeping those fashion seekers in a check therefore, attracting them more and making them buy those good looking leather attires. Similarly, a leather pant too has been showing its importance in the fashion world as they are something which if worn by any women can look enormously hot. One of the best features of these leather pants would be its quality and therefore one surely should go in for these rocking looking leather pants to spice up the overall beauty.
If we tend to shop for the finest looking leather pants then surely we may come across some of the most prominent and good quality leather pants. All these good looking leather pants might be of a very high price but are bound to give you a maximum sort of utility. It would be really a foolish thing to do just to see and purchase a particular leather pant. If we are paying heavy price then we need to know the following things, as to which animal hide is actually used in the making of these leather pants? The likes of calf skin, cow skin or even lamb skin would give a perfect look of glory to the wearer.
Whatever a woman wears, she makes sure that it is of a maximum comfort. In case of a leather pant there is no ways that women would find themselves uncomfortable, as the leather which is being used in the making is one of the most exotic and high quality ones. There has been a seriously wide variety of leather pant style that would look good over any women. Some of the best styles among these leather pants are the classic cut leather pants, a boot cut leather pant, flared or a straight leg leather pant and a skin fitted one. All these massive collections among them have made women get confused as they might not know which style would be just a perfect one for them. At such a state one should always think about their own physique and based on that they should select their leather pant. Unless and until it doesn't suit the style of your own, then you should not buy.
Leather pants can be worn anywhere and with anything to make a strong fashion statement. Many women these days prefer a leather pant for their daily official and business work as well, as these leather pants have certain kind of sophisticated look to it that helps in making a stunning appearance among others.
It is fantasy to dress up like your own favorite celebrity especially when she or he is nearby of your age and personality. Selena Gomez is among the top rated as well popular face of teenage fashion. There are many girls who want to adopt the style of her and even young guys wants their girlfriend to dress and creates magnificent illusion like of their dream girl Selena.

Here we are going to explore some amazing dressing and fashion ways of Selena Gomez. Do not miss any chance to make appeal like her. The best part of Selena is her dressing style is easily applicable for any type of feminine appeal. Therefore, there is hardly any risk to fall in fashion jeopardy.
Like other popular celebs, even Selena loves wearing leather in form of apparels or accessories. Here this write up will assemble all her most good-looking looks and making you appear in such a way.
1. Selena's Bomber Leather Jacket- Take your or borrow from your female friend brown bomber leather jacket. Wear the jacket with black t-shirt no matters if it is plain or printed. Take a purple knitted scarf and put its both ends at front. Match the upper get up with dark blue shade or distress dark blue pencil fit jeans. Accessorize the get up with silver diamond rings, diamond hoop earrings, Heart shape pendant necklace, simple ponytail hairstyle and beige color stilettos.  Go for ¾ sleeves of leather bomber jacket instead of long ones.
 2. Selena's Leather Pant-This get up which we are about to explore of Selena is very recent one. Thus, it is making great news in headlines as glamorized formal wear wearing leather pants. Get your nice fitting white blazer with bit white fabric design will be icing on cake. Inside the white blazer wear a black lace top. Put in the black lace top inside leather pant. Make sure pant is in pencil cut and fitting you overall comfortably. Grace your personality by wearing velvet black stilettos. Give your hairs sizzling wavy curls style while going for water shine makeup.

3.Selena Again In Leather Jacket- This look of Selena is sexy and sizzling hot then the past one with leather bomber jacket. The diva girl Ms Gomez had wore same as before ¾ sleeves black leather jacket with cropped style. She wore the jacket over the wine color short smoothie dress. She gosh accessorizes with black lace stocking and designer ankle black boots. All the Selena seems to be knowing that her outfits is already gracing sensuousness thus she manage to keep her attitude simple and natural as she is casual.
The basic of Selena's look is she most probably prefers the outfits which are much immersed towards the casual look rather than going too bold and appearing much older. Through her outfits she defines her age more graceful as a cut pie.